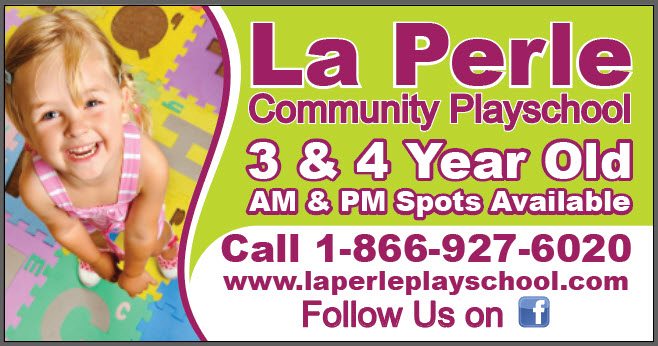 Registration
Registration for the 2023-2024 School Year is opening soon!
We have spots available in both 3 year and 4 year programs.
Please contact our Registrar at 1-866-927-6020
to find out more!
---
Open House April 27, 2023, 6-8 pm
---
Please contact [email protected] for info
What to expect on Registration Night:
– An opportunity to meet our teachers and hear about the playschool program
– An opportunity to meet members of the playschool board
– An opportunity to ask questions of the teachers and board members.
– An opportunity to purchase your La Perle Community League membership (A membership in an Edmonton community league is required, but it does not have to be from the La Perle Community League)
Note: You will be required to provide banking information for automatic withdraw or several post-dated cheques on registration night. Refer to the fee schedule below for dates and amounts of the cheques.
---
Virtual Tour – New to 2021!
New to 2021, La Perle Community Playschool is offering a virtual tour of our classroom! Even though we cannot be together this year for our Open House, Mrs. Knoll and Mrs. Wong wanted to give families a glimpse into our wonderful program.
---
Fees
All fees are payable by Pre-Authorized Debits (PAD Program), post dated cheques, or cash. Please contact the Treasurer for more information.
REGISTRATION FEE
Non-refundable registration fee of $25.00 + September tuition fee ($105.00 for 3 year, $135.00 for 4 year) is paid upon
registration to the program.
3 Year Program – Registration fees are $105 per month
4 Year Program – Registration fees are $135 per month
September tuition fees are paid for at registration. The June fees are taken September 12 and the remaining monthly tuition fees will be withdrawn on the 1st of the month, October – May.

*There is a grace period of 2 months for unpaid tuition fees. After 2 months of unpaid tuition fees, your child will be withdrawn from the program.*
---
Subsidy
UPDATE: La Perle Community Playschool once again qualifies for subsidy from the Government of Alberta! Please visit their website to see if your family meets the eligibility criteria and apply: https://www.alberta.ca/child-care-subsidy.aspx